Now, with MyBox, you can get 75 € on a Gift Card2 for each insurance policy taken out: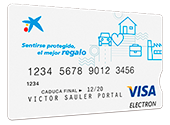 ---
75 € FOR EVERY NEW INSURANCE POLICY with a minimum monthly premium of €20 for the first 3 years. If you take out a SegurCaixa Single Premium Funeral Insurance policy, you will receive €150.
---
And if you contract MyBox Alarma, a bonus of 75 € to be discounted from the price of the service.

ONLY AVAILABLE UNTIL 27-11-2020