SEPA, the future of payment instruments
The SEPA (Single Euro Payments Area) is the area in which citizens and companies can make and receive payments in euros within and outside state frontiers, under equal conditions and with the same rights and obligations, regardless of the member state where the payments were processed, in line with the Community Directive on Payment Services.

The Single Euro Payments Area was born from the initiative of the Banking Sector and pushed forward by the European Central Bank and the European Commission. It represents a step further towards European integration after the introduction of the euro. It also means that, just as we can now make and receive payment with Euro coins and notes, we will be able to make transfers and present invoices with the same ease, security and efficiency.

The Single Area embraces 34 States: the 28 member States of the European Union, alongside Iceland, Liechtenstein, Monaco, Norway and Switzerland.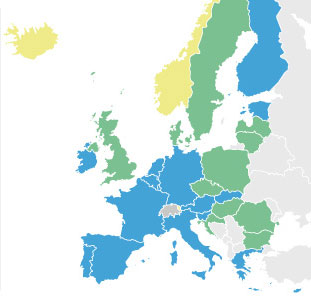 EEA 11 NO euro countries
Bulgaria
Czech Republic
Denmark
Hungary
Latvia
Lithuania
Poland
Romania
Sweden
United Kingdom
Croatia
EEA 3 no EEA countries
Andorra
Monaco
Switzerland
San Marino
Vatican
EEA 17 UE euro countries
Germany
Austria
Belgium
Cyprus
Estonia
Finland
Francia
Greece
Ireland
Italy
Luxembourg
Malta
Holland
Portugal
Slovenia
Slovakia
Spain
EEA 3 no UE countries
Iceland
Liechtenstein
Norway
*EEA( European Economic Association)


The SEPA supposes the creation of new infrastructures for bank transfers and direct debits and of new standards for payment systems by cards.

CaixaBank has adapted all its procedures to the new SEPA regulations, in order to guarantee compliance with them and to offer its customers personalised service through teams of experts who will provide support in the process of migration to new forms of payment on February 1, 2014.