Book your vacation with a 10% discount1.
Take advantage of our travel discounts selection.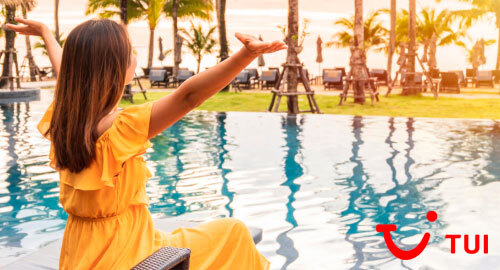 TERMS AND CONDITIONS OF THE PROMOTION. Book your Flight + Hotel Package with TUI, 4% discount!
1. The promotion is valid when booking with TUI through Moments.
Applicable to all packages available on the specific TUI page for Moments customers, by clicking on the "Book Now" button, available within the promotion details.
Offer subject to the general terms and conditions and/or promotions of TUI Spain.
TUI Spain reserves the right to modify the promotion and web content at any time without prior notice.
This campaign is separate from other specific offers and promotions available at www.es.tui.com.
Offer valid until 31/12/2022.
LEGAL CONDITIONS. Information about the processing of personal data.
The data controller is ImaginersGen, S.A., with tax identification number A-61363339 and registered office at Carrer de l'Estany 1-11, pl 5, 08038, Barcelona. Contact details of the Data Protection Officer: http://www.caixabank.com/delegadoprotecciondedatos.
The data requested are necessary for the administration and execution of the promotion, and will be processed for this purpose; they will also be processed to comply with the required regulatory obligations.
These data may be disclosed to authorities and public authorities, in order to comply with legal obligations, as well as to service providers and third parties necessary for the administration and execution of the contractual relation. The data will be processed while the established relationships remain in force, and they will be stored (during the limitation period of the actions deriving from these relationships) for the sole purpose of complying with the required legal obligations, and to formulate, exercise or defend against claims with the Data Protection Authority. The owner of the data may exercise the rights in relation to their personal data in accordance with current regulations by sending an email to the mailbox: [email protected]. You may also direct any claims deriving from the processing of personal data to the Spanish Data Protection Agency (www.agpd.es).
Once you sign up with TUI, this company will be the Controller of your data for the execution of the contracted product or service and will inform you about the processing of such data.
NRI: 20909-2022-05555