Why take out Senior Protection?
The Senior Protection service is designed for people who enjoy their lives, so that they can keep up their carefree lifestyle and get in touch with their loved ones whenever they need it. Thanks to the Senior Protection watch, you will feel protected wherever you go, and in the event of a risky situation, Securitas Direct will always be at your side.
We care about your well-being
We help you to keep healthy habits, counting your daily activity steps.

We tell you the air quality, humidity and temperature in your home.

We offer you the freedom to speak as much as you like, with the voice chat.

And, so that you are always in contact with your loved ones, you have the Senior Protection application.
Your protection, our mission




When you need us, just click a button. Wherever you are, inside or outside the house.

"Nothing has to happen, but if it happens, we'll be there".

And at home you can also let us know using your voice, just by saying "I need help" twice.

The watch, which has an automatic fall detection system, immediately notifies the emergency services. It can even notify family members².
Finance it interest-free at 0% APR¹
Senior Protection + 36-month service
Total amount financed: €864
24€/month in 36 instalments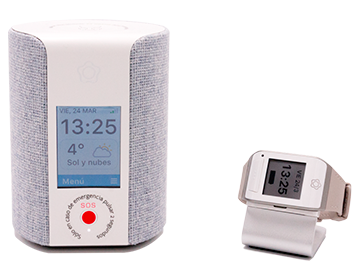 There's no one better than you to take care of yourself and Securitas Direct to protect you