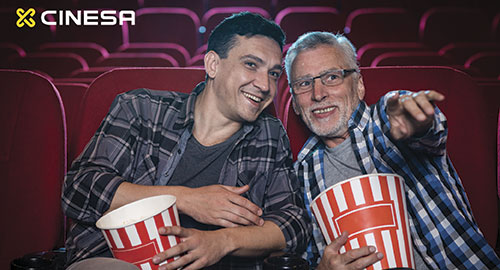 For being a Family Senior member, enjoy a visit to the cinema for just €5, from Monday to Thursday at any CINESA cinema.
And enjoy a Family Senior set menu before or after your visit:
Coffee + pasta: €3 at Farggi establishments in Cinesa Diagonal and Diagonal Mar in Barcelona.
A special price on a 75 cl bottle of water + 1 box of flavoured popcorn (chocolate, caramel, coconut and cinnamon, salted caramel or goats' cheese) at Cinesa Puerto Venecia (€4.80), La Maquinista (€5.20), Parc Vallès (€5.20), Nassica (€5.20), Las Rozas (€5.20), Diagonal (€6.50), Proyecciones (€6.50) and Xanadú (€6.50).
At all cinemas: A 30% discount on the Classic Menu (a bucket of popcorn and a 75 cl drink).
Senior menu (€3): Pick & Mix or a small popcorn or chocolate + coffee (subject to availability in the cinema) or water.
All you have to do is identify yourself using your proof of identity or Family Senior card at CINESA cinema box offices and pay for your tickets using a card marketed by CaixaBank.
This offer is not available at Ticketmaster or on the Cinesa website.